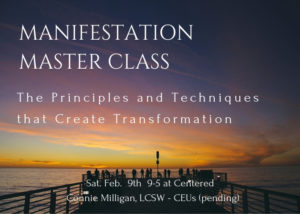 MANIFESTATION MASTER CLASS –The Principles and Techniques That Create Transformation
8 hours CEUs for Social Workers and  Massage Therapists (pending) 
DATE: Saturday February 9, 2019
TIME:     9:00-5:00 (Lunch included or bring own)
PLACE:  Centered 309 N. Ashland Ave. Lexington      
Give yourself and your clients the tools to create transformation and manifestation Get our of ruts, make big changes and manifest dreams. The 2019 Manifestation Master Class provides a deep dive into the Laws of the Universe that hold the key to how you can transform your life and manifest dreams!
Learn the tools that enable you to bring visions to life! Go beyond the Law of Attraction to explore all 7 of the Universal Laws that, when interlinked, create powerful transformation in your life. For clinicians, learn new hands-on techniques and the principles that underpin traditional concepts like CBT and Mindfulness. These essential elements are from the Hermetic Principles, the ancient Egyptian wisdom traditions.
In each lesson, one or two laws will be presented along with meditations, exercises, and handout materials to help make them understandable and usable. You'll also receive a symbolic gift to make each lesson memorable.! It's an exciting, fun, proactive way to create the life you've been looking for! Food, drinks, and surprises included!
Here are the lessons that we'll cover in the Manifestation Master Class:
Your thoughts create Your reality
Align your mind body and soul wisdom
Learn the lessons and gifts of your life events
Imagine living your full potential
The secret manifestation formula
Preregistration Required by Monday February 4th
Call 859-721-1841 or register on line at Register Here   www.Centeredlex.com – events 
Early Bird Fee – $95. or $145. for 8 hr. CEU certificate  
After Feb 4th – Fee is $135. or $185. for CEUs
Come enjoy learning this fascinating material with or without CEUs. It's a fun and exciting way to learn how to transform your life and manifest dreams!
I hope to see you there! To register use this link To Centered's event page:  Register Here