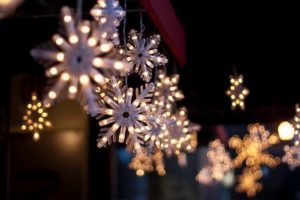 Everyone I know is in the throes of holiday preparation. Not everyone is happy about it either. How can you lift yourself and others during the stress of holiday pressure? This is a topic I have a lot of personal experience with, and it dovetails with everything I've been studying for decades.
Here are some thoughts that I've found helpful in getting through the hustle and the conflict that holidays can bring.
WORK ON ACCEPTANCE
So much of our energy gets used up in a state of resistance. There's the decorating you can't seem to get help with, the party you don't want to dress up for, being alone or with too many people, the family that gets on your nerves, the political commentary that makes you want to scream, the shopping that seems to never end, the cooking and cooking. In large doses, all this can create ill humor, conflict and negativity.
Acceptance is the ultimate antidote. Acceptance is a state of mind that helps you cope. It gives you the grace to fully embrace what is happening. It lightens your view of things. It helps you move your mind from negativity to neutrality …everything just is. This is your reality – accept it and let go of the resistance.
When you accept everything and everyone as it is – you release internal conflict.
STAY IN THE MOMENT
There is a lot of stress and resistance that comes from planning and thinking about the holidays. Most of our thoughts are in the past or the future. Will it be as bad as last year, will I have enough money to get through, will they like what I bought? All the swirling thoughts play havoc on our state of mind.
Give yourself the opportunity to regularly stop and look around – reconnect to the moment. What do you notice? What can you appreciate about what you're doing? Can you be like your pet – they're always in the moment. Find the perfection of everything you are embracing in the process of your holiday.
Find the all's well in the present moment and you will feel it's truth and calming power.
FOCUS ON WHAT MAKES IT MEANINGFUL AND SPECIAL
Our minds are slippery. So much of our anxiety comes from where we put our attention. When you stop the wheels from turning over all the things you're worried about or don't like and find something special and meaningful to focus on, everything changes.
What's important, what do you value about the holidays? Is it sharing love with family and friends, giving to others, seeing others joy and excitement, is it creating beauty? Find that perspective and notice how everything you are doing is in service to what you value.
When you focus on what you value about the holidays, you realize your contribution is important to making it special.  
KEEP YOUR COMMENTARY POSITIVE
Our words are powerful and can create or destroy the mood of a situation. When we give voice to our worries, dislikes and negativity we are literally enhancing that feeling for ourselves and everyone around us. Is that what you really want?
Try keeping your words and commentary on what you love, appreciate or enjoy in your present moment. A steady stream of positive comments lifts you up and everyone else. You will be creating the joy and peace that you hope for in the holidays.
Your powerful positive words will help make the holidays cheery and bright.
What is the essence of these 4 ways to lift yourself and others during the holidays? It's realizing how very powerful you are! You literally can affect and control how your holidays unfold. By accepting your holiday situation as it really is, staying in the present, focusing on what you value and keeping your comments positive, you can create the holiday of your dreams. Try it and see if it doesn't help you make this a special time of year.
Learning how to control your thoughts, perceptions and experiences to make them positive and reflective of your best potential is the focus of my work. If you'd like to learn this for yourself, consider my individual Transformational Life Coaching and Counseling or my upcoming class – The Manifestation Course 2018. For additional information, go to my website www.spectrumtransformation.com. Give yourself the gift of personal transformation this year!