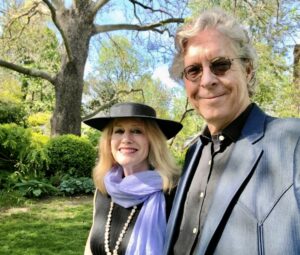 How often do you think, I am so lucky? I found myself thinking that today and immediately realized it actually has nothing to do with luck. Everything I have is the result of very clear and calculated choices.
Over my birthday weekend, I had such an outpouring of loving notes, flowers, calls and a lovely dinner with friends, along with the Derby, it made me pause. I have come to a place in life where I am surrounded by everything I love. It's taken me a while to get here – It's taken deliberate choices at every juncture.
Here's what is important in considering the choices you make that will ensure you have happiness. The kind of happiness that makes you feel lucky with life.
Lucky in Love
Was it really luck – when the right person, at the right time and right place walks into your life? That's how it felt when I met Lee at a party I was hosting 11 years ago – for it was for his band coming through town. Totally random.
I have examined the circumstances at length. It was not luck – it was a product of two people with similar desires coming together, willing to take a chance. As Lee said when he asked me out 6 weeks later; "We're not getting any younger, you know". We soon discovered the other was exactly what we were each looking for. We knew what we wanted – we had thought it through – it was a deliberate choice. One that has brought us tremendous happiness.
Lucky Where You Live
I have traveled the world, been to many beautiful places and I am always happy to come home. The beauty of this Spring has filled me with joy. On my morning walk, while taking in the blooming dogwoods, azaleas, crabapples, peonies and the bright green of the big budding trees, I exclaimed to Lee – "I am so lucky. I'm lucky to live here, surrounded by so much beauty".
But I choose to live here 28 years ago. I wanted an older home with interesting architecture, gardens with big trees, a beautiful park and great neighbors, all of which I have. I have not seen a place I love more. I quickly realized if I saw something I loved more, I would go after it. It is all a choice.
Lucky With Friends
Between Lee and I, we have many interesting and long-term friends. Some go back 40 years. We were not surprised to learn we have friends in common, from all walks of life. We love the diversity of our friends, of all ages, cultures and interests.
You choose your friends. They change as you change, helping to expand your network. Being picky about your friends is a good thing. You want to be able to enjoy and savor what friends bring to your life. Choose wisely and expansively. Everyone can bring something different to your life.
Lucky With Work
My work is an integral part of my life, defining what I do and who I am. I think I am lucky with my work, but in truth, I have simply followed a path that unfolded in front of me as I pursued my own interests and innate talent to serve people. I started out to be an educator, but when there was a hiring freeze in that field, I went back to school to be a Clinical Social Worker. It is work I still love today for all the diversity it offers.
When you do work that matches your passion, talents and interests, you will always be happy with what you do. Yes, there are ups and downs, but over time things work out to give you great satisfaction doing what you love. It is not luck, it is making sure your choices match what you know appeals to you, what draws your attention and keeps you excited to learn and grow. We all have something that we are here to do – be true to it and you will have success. It is not luck – it is your choices that make you successful.
Do you feel that sense of satisfaction – the feeling that life is smiling on you with good grace? It is all possible when you pay attention and make your choices match what you love and want for yourself. When you do, you will find that you too will feel lucky with love, in your surroundings, with good friends and with meaningful work. It's not luck – it's how you steer your life direction with your choices.
Would you like support to feel lucky– so that your choices match what is important to you? Reach out, my Transformational Coaching and Therapy is designed to help you on this path. Go to www.spectrumtransformation.com and use my Free Consultation link. I'd love to help you be happy with your life.
#luckyisallinyourchoices #l'msolucky #healthymindset #purposedrivenlife #lifewellcaptured #lifeisajourney #selfdiscovery #mindsetofgreatness #enlightened #purposedrivenlife #motivationiskey #motivationdaily #selfcaretips #coachinglife #focusonyourself #changemakers #timeforchange #believeinyourself #strongmind #selfreflection #selfmastery #lifepurpose #positiveliving #goodthings #selfbelief #innerstrength #youareworthy #lovethislife