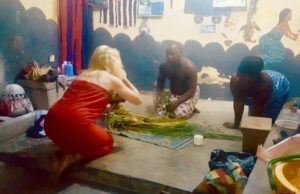 Are you ready to launch change in your life? In my decades of study and recent experiences with the Ewe Tribe of rural Ghana, I've learned that if you want to launch meaningful transformation, it helps to have a little fanfare. Make it happen  with clear intentions and a ceremony! The Ewe use these elements in their rituals and I've incorporated some of them into my work as well.
On Oct. 20th and 21st, I'm doing that with "Clear and Reboot",  a two-part workshop that will provide a format to clear out what no longer serves you, so you can reboot on a platform that better meets your needs. First, on Saturday, you'll recognize how life patterns that don't work have blocked you and negatively affected your mind, body and soul and create a ceremony to clear it, that you'll do at home.  Second, on Sunday, you'll focus on using your strengths to build your new intentions, identify your co-creators and create a vision and plan for rebooting. For more information see https://www.facebook.com/events/909918539195277 .
In Ghana, I was involved in many ceremonies that commemorated significant events. Regardless of their purpose, they had similar elements. You initiate your question or intention with a ceremony to lift it up for consideration, there is a process of discernment, followed by another ceremony to release and cleanse yourself of the old , then there is clarification of your new intention and  a closing that claims purity and new direction. Each step helps you make your change process powerfully important.
Let's look at why it helps to have so much structure in your change process.
RECOGNIZE THE IMPORTANCE OF CEREMONY IN YOUR LIFE
Think about all the ritualized ceremonies that provide a process for acknowledging a change you're embarking upon. There are graduation ceremonies, engagement parties, weddings, ribbon cutting ceremonies, baby showers, New Year's eve parties, birthday parties, anniversaries and funerals. There is something for every phase of life.
Why not utilize a rite of passage for other changes you seek? It seems that we don't take the serious things in our life seriously enough. Other than funerals, most of our observances focus on pleasure, particularly for other people involved.  I want to make a case that many of life's biggest changes need more ceremonial ritual to make the decision and change more poignant, sincere and significant.
Ceremony affirms that your change is important.
ACKNOWLEDGE THE CHANGE YOU SEEK
Think about what you'd like to change in your life – personally or professionally. Give some attention to the patterns of your life. What hasn't worked, what's been toxic, how have you've been blocked from being your best, either by others or self-imposed?
Allow yourself to imagine what your life will be like without those blocking patterns. That's the change you want to initiate! Nothing will happen if you don't allow yourself the fantasy of change. The more intentional you are with your desires, the more likely it will happen. You are offering the desire up like a prayer.
Lift up your intention for change with the consideration it deserves.
HONOR RELEASING THE OLD
Often, we plow into changes without fully acknowledging the impact of the old that you're preparing to release. There is an energy to the old patterns, situations and people that needs to be recognized. Even when it's been negative, it still holds your history and needs to be honored.
Ceremony allows you to acknowledge the importance of releasing  an old pattern. When you understand the role it's played in your life, the release is more potent and lasting.  This is what I've learned from the Ewe people.
Ceremony allows you honor your past, even though you are moving on.
COMMEMORATE YOUR NEW LAUNCH
When you start something new, often it's not visible to others except those close to you. We tend to numb ourselves to change and just go along like it's no big deal. It can make change seem insignificant.
But don't you wish for more celebration? Leaving that toxic relationship or job or learning new patterns of response to difficult situations deserves major fanfare. Go ahead –  commemorate the hard won change you have made!
Use ceremony to makes your transformation a lasting and special juncture in your life.
This Clear and Reboot workshop is special to me because it reflects decades of my own work on this subject. I have completely changed my life personally and professionally. My intentions for change were so clear, I learned to celebrate each step of the way. The Ewe people have shown me the importance of this process for they recognize both the power of personal intention and the importance of rituals in creating transformation. The Clear and Reboot workshop combines all these elements. I am very  excited to share it!
If this speaks to you, come join – registration closes on Friday October 19th. You can call Centered at 869-721-1841 or use this link to register https://www.facebook.com/events/909918539195277 .   For more information or questions, see my website www.spectrumtransformation.com and reach out to me through the Free Consultation tab. I also do this work individually. I'd love to hear from you!
Photo – Ewe Ceremony by Lee Carroll