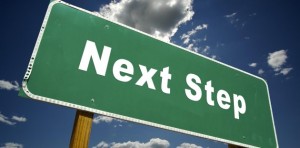 The year is already past the 6-month mark and you might be wondering how time has flown so quickly. Those 2017 changes you hoped you'd make may be looking iffy at this point. What can you do to get refocused so the next big step become clearer and easier?
I just finished conducting a class on "Taking The Next Big Step" for the folks who worked with me in my Manifestation Course. It was fascinating. Many people have experienced curve balls that derailed or changed their original plans. The tendency is to feel stuck or like there has been a failure of some sort. But in going over the details, it was clear that wasn't the case at all. They were being redirected for good reasons.
It can be helpful to clarify your direction and examine the things that make you feel blocked. Getting redirected often requires a new way of looking at where you are going.  Allow me to highlight a few things that may help you take the next big step in your life. *
What's Important Right Now?
When you look over your desires, your goals, your aspirations, what is most important to you right now? Getting clear will help you immensely. What often happens is we have many desires and the competing attention that each requires dilutes the overall effort and outcome. That can be why we become stuck or mired down by the details. Get clear on one main direction. Ask yourself what has the most meaning and importance – what wants to happen right now?
Be clear on your priority so your attention can have a clear focus.
What's Your True North Say?
When you have a sense of what's important, check it out with the inner wisdom of your soul. This is your true north – the part of you that knows your truth. You can do this by standing back and imagining that your goal is out in front of you. Ask yourself if you will be meeting your greatest good by heading in this direction. If it's not clear, keep refining your desire or objective until you have a clear sense of knowing that "this is it – this is right for me".
Often our ego will tell us to want more money, prestige or power, while our truth is something entirely different. If you feel blocked right now or things aren't going as you want, try this exercise. It may be, as I heard from the people in our class, that you are being blocked for a very important reason. Look at it from your soul perspective. If you want satisfying results that give you joy and meaning, always follow your inner wisdom. Those goals will give your life a clearer sense of purpose.
Make sure your goals align with your greatest good – your inner wisdom knows your truth.
What Kind Of Energy Do You Need?
Each step you take has unique characteristics requiring a different output of energy. Are you starting something new – it needs the exciting, ramped up energy of the East and the Spring – fresh, fast and alive. Are you wanting to move deeper into something you've already started – it will need the steady, consistent, full focused growth oriented attention of the South and the Summer. Are you trying to bring something to completion – it will need the serious, disciplined, bring in the harvest energy of the West and the Fall. Are you wanting time to reflect, rejuvenate and get redirected before you start something new – it needs the contemplative energy of the North and the Winter. Each step you take can be related to the energy patterns of the four directions and four seasons, just as the Native Americans used.
Be aware of the energy needed for the steps you want to take and adjust yourself as needed.
What Step Do You Take Now?
Once you have your direction clarified, you are poised and ready. What step is needed first, then next? By making it a series of small steps, you take the fear and the confusion out of the process and pace the outlay of effort so you have enough to bring it to completion. Sometimes we wear ourselves out by trying to take it all on – too much too soon. Know the one step to take first…make it simple.
Pace yourself by breaking the "next big step" into smaller ones and know which one is first.
Is there is something calling you to do in your life?  Using this sequential process can help. Once you clarify your intent, know that it serves your greater good and establish the flow of energy needed to take the initial steps, you will soon be on your way. You will be able to take and make the next big step in your life. The satisfaction of moving toward your greater purpose is always a good feeling.
Does Taking "The Next Big Step" speak to you? If this is a process you'd like more personal help with, my Transformation Life Coaching and Counseling is tailored to make it happen. It can be an exciting and satisfying exploration! For more information see my website, www.spectrumtransformation.com and reach out to me through my Free Consultation link. I'd love to hear from you!
*Adapted from "The Manifestation Wheel: A Practical Process for Creating Miracles" by Alan Seale, Red Wheel publishing, 2008
* Image from the Baltimore Post Examiner