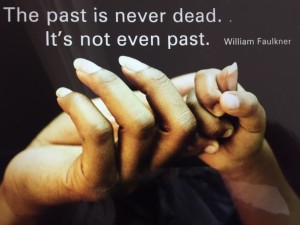 It's a difficult topic that's so important, I'm rewriting it from last year. When people carry the scars of trauma, it's often an invisible wound that doesn't heal. As the quote from William Faulkner implies, people who survive trauma may feel they are living with the wounds every day. But there's positive change across the country, so hear me out
While most of us are enjoying the beauty of Spring, the people who live with trauma often have a skewed world view. Spring may not even be noticeable to them. Their world may seem difficult and unsafe, adversely impacting their health, behavior, mental health, and relationships. To cope, some respond to the internal pain of hurt, fear and anger with risky behavior, aggression, substance use or relationship conflicts.
These behaviors can lead to encounters with the law, leading to the involvement of public service professionals within the police, courts, jails, mental health agencies, homeless shelters, ERs, and probation offices. They often address the behaviors and consequences of trauma without being aware that it exists.
I'm writing about this because I have the honor of providing the SAMSHA GAINS Center "Trauma Informed Care" training to various communities around the country. This week I will be in Athens GA with professionals in justice related public service positions. They have sought the training to heighten their awareness of trauma to determine how to make their service delivery system "Trauma Informed". *
I'd like to give some perspective on how this training has helped other communities and why I'd be helpful for all of us to be more trauma informed. Here are some thoughts:
WE ALL KNOW SOMEONE IN THIS PLACE:
What the data tells us is that victimization is more common than we think. In 2010, 1.4 million people were victimized by violence, 14.2 women per 1,000 and 15,7 men per 1,000. (Truman 2011).  It is also almost equally prevalent in men as in women. In a jail diversion study from 2002-2007, self-reports showed that 96% of women and 89% of men had some lifetime experience of trauma and 74% of women and 86% of men still had current trauma. (Steadman 2009) These statistics are sobering. High percentages of people carry reactions to trauma.
Trauma comes in many forms. It can be loss from death or divorce, natural disaster, accidents, the military, abuse, neglect, illness, poverty, incarceration or experienced vicariously. While everyone has a different reaction to trauma, the consequences can last a life time. The low self-esteem and difficulty in coping is the start of more serious consequences that can lead to justice involvement or at minimum a life lived with scars.
If we assume most people experience trauma, it's easier to understand their behavior.
COMPASSION GENERATES HELPFULNESS, NOT JUDGEMENT:
It's common to react to negative behavior with equal negativity. It seems to be automatic – someone pulls in front of your car and you lay on the horn. Things can spiral out from there. Being compassionate changes everything.
In Lake Co. Il last year, a police officer told several stories about responding to people with compassion. The lack of judgement and the willingness to be helpful rather than pressing charges created these meaningful interventions.
·     A women was traumatized by having her TV stolen. She spent her evenings paranoid and scared, calling the police repeatedly throughout the night, convinced something bad was happening around her. After dealing with this for a while, the officer simply bought her a new TV. The calls stopped – she was no longer scared.
·     A woman who had been raped was at the police station to press charges, but was scared to go through the screening process. She was worried there'd be suspicion that the charges were false. The officer bought her a hamburger, talked with her and got her comfortable enough to go through with the screening.
A police officer's low cost interventions turned these situations around from continued trauma to resolution.
Simple acts of compassion can provide relief from trauma
KINDNESS GENERATES CHANGE:
One of the Trauma Informed Care training videos highlights people talking about the impact people's kindness had in making their situations turn from bad to good. Here are two examples of the impact of kindness:
·     A man was pulled over for a traffic violation. He was in acute distress, didn't trust the officer and was ready to fight. The officer's courteous behavior so impressed him he agreed to the services he needed. He called the officer a professional, not a cop.
·     A young woman told about her teacher coming to court to advocate for her. The Judge really listened with understanding, so instead of violating her, sending her back to prison, he gave her another chance. From there she was able to turn her life around.
Kindness changed these people's beliefs about service professionals from uncaring to life altering.
Trust and kindness help people become their best
TRAUMA INFORMED INTERVENTIONS ENLIGHTEN PEOPLE AND SYSTEMS
In all the examples above, the people involved were helped by those with an understanding that trauma can be debilitating. By offering compassion and helpful alternatives, they created positive outcomes. Jail and court related services were avoided. A person's understanding about the impact of trauma made a difference in changing their lives.
After several years of conducting this training, we are starting to see system wide changes. The collaboration that's necessary to link people to treatment begins to break down the barriers between service systems. There is more open cooperation to achieve positive change. This positive exchange soon expands exponentially.
Enlightenment happens when Individuals move from judging to compassion, punishment to kindness. Imagine how this can change your work and the world!
Whether you have experienced trauma or not, expanding your own capacity for kindness and compassion can generate profound changes. If you'd like to explore how your own personal or professional transformation can bring more kindness, compassion and heartfelt change in your life, Transformational Coaching can help.  If you're interested, contact me here or at my website www.spectrumtransformation.com . Look for the "Fee Consultation" button to ask how this could work for you.
*For more information on "Trauma Informed Care" training, see SMASHA GAINS Center for Behavioral Health and Justice Transformation. http//www.samsha.gov/gain-center