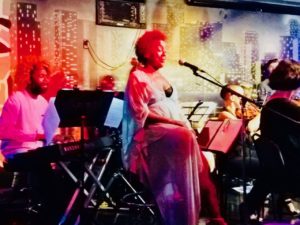 You've heard about thinking outside the box, but what if you stretch your experience? You can make yourself think differently and not really be changed. But when you stretch your experience, you are exposed to new ways of thinking and new ways of being. What happens when you do that?
Last week we had a wonderful opportunity to stretch our experience. We hosted Cuban musicians Xiomara and Axel Laugart for a series of highly successful concerts in our community and were transformed by it. They are such loving and joyous people, we felt lifted-up by being in their presence. Having them stay with us and watching the impact they made on four different audiences was like going to another country while staying at home.
Here are some of my observations about the effect they made and what can happen when you give yourself a different experience.
ASSUMPTIONS ARE CHALLENGED
One of the reasons Lee and I are bringing people from other countries to our community for a cross-cultural exchange is that we often have assumptions about people and places that are
inaccurate. Our non-profit, Green Room Exchange, gives people a taste of what we have experienced in our travels, that we are more alike than different. Engaging with people from other cultures can bring us closer, not create more divisiveness.
Whatever you think about Cuba, our experience is that the people are incredibly loving, joyous and passionate about what they do. They are hard working and disciplined and have figured out how to survive in very difficult conditions. Our friend's joyous nature came through clearly and people were moved by watching them.
A new experience can alter assumptions and reduce judgement.
YOU REALIZE WHAT YOU DON'T KNOW
My husband is a fantastic piano/keyboard player, but when he watched Axel play he was humbled. Everyone had the same reaction to his stunning virtuosity as a jazz pianist. He is that good. Lee asked him to teach him something and Axel was humbled by the request. I was learning from Xiomora too. As the "voice of Cuba", she's had amazing experiences traveling the world as a singer. I saw how her world view encompasses a global perspective that is universally loving. She kept saying "love is the most important thing". It's so simple and true.
When you are exposed to something new, you instantly realize what you don't know. Depending on your experience, it can enrich you and make you appreciate and see things differently.
Being humbled and challenged is how we expand and grow.
YOU SEE YOURSELF AND YOUR LIFE THROUGH DIFFERENT EYES
One of my favorite things to experience is seeing how people from other countries react to our lifestyle. It's been universally positive. We live in a beautiful place with fantastic friends who believe in the power of hospitality. The richness of this can be taken for granted. Seeing other's reaction puts this in perspective.
Sometimes a new experience can help you understand the virtues of your current situation. Sometimes it makes you want for more or something different. Both are helpful and important. The more feedback you receive, the more you cultivate a deeper understanding of who you are.
Get an outside perspective to see yourself with new understanding.
IT CLARIFIES WHAT'S IMPORTANT
The beautiful message that came from being around Xiomara and Axel was the power of living with joy and love. They made friends with everyone they met because of their outpouring of positive response. They were irresistible. They greet the day with laughter and positive expectation. It was instantly compelling. It clarified what is important to me – to love more.
When you're around people who think and act differently than you, it opens you to ideas and ways of being that can challenge your way of thinking. It can help you understand what's important in life.
Give yourself a chance to explore – what's important to you?
What a wonderful experience we had with Xiomara and Axel! We loved showcasing the passion and love they exude and watching it dispel any notions people might have about Cuban people. We loved experiencing their musical excellence and loving world view, realizing that knowing them will expand and enrich us. We loved their reactions to us and our community; it helped us see the beauty of our life. We indeed met our goal to communicate we are more alike than different and can be enriched by sharing new experiences. It confirmed the importance of communicating this loving message.
Does this stir interest in having new and expanding experiences? I highly recommend it – get yourself out there and try something new and see what happens! If you want help exploring this in more detail, my Transformational Life Coaching and Counseling is designed to support your discovery process. See my website www.spectrumtransformation.com. for more details and use my Free Consultation button to reach me. I'd love to hear from you.