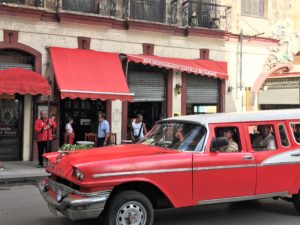 This weekend, we launched our non-profit, Green Room Exchange, to promote cultural enrichment,  featuring our friend from Cuba, Alberto Gonzales Rivero. We had a packed house, Cuban food, mojitos, cigars and Alberto talking about life in Cuba. But what was most evident to me is how cultural exchange has transformed us.
When Lee and I met, we had a vision of traveling the world, not as tourists; we envisioned seeing the world through the eyes of the people who live there. It was a decision that has given us amazing experiences, taking us to Mexico, Belgium, Portugal, Ghana and Cuba.
The people we have met have shown us tremendous kindness and respect. We've been humbled by their intelligence, integrity, hard work, and generosity, often living with so much less than we have. It's changed how we see ourselves and how we approach life. It's expanded our compassion and understanding of other cultures and has made the world seem smaller, safer and more humane.
Now, with Green Room Exchange, we have expanded our vision to give others an opportunity to see the world through the eyes of those who live there too. We're doing this by bringing people from other cultures to our community and enabling local artists and musicians to go there.
Let me share some thoughts about how cultural exchange has expanded and transformed my soul. See what you think.
Heart to Heart Connections Are Made
Even with language barriers, we have been amazed noticing how we are able to make very real, humbling heart based connections. It seems to happen effortlessly, with a look, a smile, shared storied and experiences. We extend ourselves and it's returned in kind.
Alberto talked about how, as a translator for many groups of people who come to Cuba, there is always someone who he bonds with. He calls them "my people". He mentioned in his talk, that Lee and I became his people in our group.
It's through his connections to people like us that he is able to travel throughout the United States and beyond, visiting those he's met. We have had the same experience. It is these heart to heart connections that have enabled us to see life through the eyes of our hosts.
 Be open to others and they open in response, at a heart level
Notice Commonality
I love to notice how other people live, what's important to them and how values shape their habits. Here in the US, we hold many things dear, like being kind, generous and responsible. I've found this to be true everywhere I go, even where people live with very little.
In both Cuba and Africa, I was awed to notice how hard people worked to make us a meal. It started early in the morning – everything done from scratch. In Africa, it meant plucking the chicken for stew and pounding the casaba root to make banfu. In Cuba, it meant soaking the beans, making the dough for empanadas and frying the plantains. Each meal is a labor of love and generosity. There are no conveniences.
Across all cultures, we honor one another by being kind and generous.  
Lose Your Ego
We have been indoctrinated to think of ourselves as the best in the world. While we may have riches and conveniences that other countries don't have, it's a humbling awakening to recognize how intelligence and innovation, integrity and discipline are evident everywhere.
In Cuba, the focus on education and the arts have created advanced medical services and artistic accomplishment. Their focus on organic gardening is their creative solution to shortages in fertilizers and technology. In Ghana, spiritual tolerance lays a foundation for gender equality in spiritual and political arenas. In both countries, they work hard work, all the time.
We are not better than anyone else anywhere – we all have gifts.
Notice That We Live In One World
I've come to realize that as much as we try to compete and compare, the reality is we are all in one world. Despite our differences, we are more alike than dissimilar. You cannot help but notice our commonality.
When you look at the world through this lens, you feel closer, less isolated and more connected. It makes the world seem smaller, safer and more interconnected than I ever knew was possible.
We are in this life experience together – let's show each other respect and kindness.
If you travel, you most likely know what I mean. Exposure to other cultures opens your awareness to who we are in relation to the world. It levels the playing field and helps us realize that we are truly in this life experience together. We have a lot to learn from one another.
If you'd like to explore this concept and realize how your life can embrace more cultural experiences., reach out to me! www.spectrumtransformation.com. I'm conducting a workshop entitled REALANCH – Making Your Transformation Happen on Saturday, October 7 and Sunday, October 8 from 1:00-4:00.  It will help you determine how your life can include all the experiences you seek! Call Centered to register – 859-721-1841. I'd love to include you!