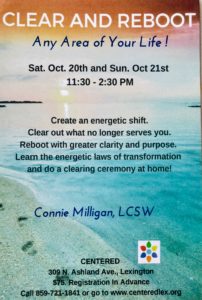 Clear and Reboot offers you an opportunity to look at what is no longer working in your life, in any area, personally or professionally, and make a clear intention to clear it out and reboot with something that meets your best interests.
Many of us are "waking up" and discovering that old patterns of doing or being no longer match who we are on the inside. In fact, it may be a source of distress and block personal development. This is a wonderful way to realign with your truth!
In a few hours on Saturday you'll identify the impact of what needs to be "Cleared", raise your expectations and create a clearing ritual you'll do at home. On Sunday we will return and develop new clarity and purpose by using your strengths to envision how you will "Reboot" to move forward!
DATE: Sat. October 20 and Sun. Oct 21
TIME: 11:30 am – 2:30 pm
REGISTRATION: Call Centered at 859-721-1841 or go to http://bit.ly/2eKV1o3   
or visit Workshops at www.centered.com
FEE: $75.00 includes lunch food, handouts and materials for your cleansing ritual.
Let me know if you have questions. I'd love to include you!
Xoxo,
Connie
Connie Milligan, LCSW combines 30+ years of clinical experience with knowledge of the energetic principles of change to create a unique transformation process. She'll help you claim your soul's truth. For more information, see her website: www.spectrumtransformation.com
IT'S IMPORTANT:
If ever there was a time to reconsider and CLEAR the platform on which you stand and REBOOT with greater clarity and purpose, it is now.
In real time, we are watching in the SCOTUS proceedings the long awaited confrontation of inequitable and unhealthy power structures that have sickened and weakened our political and social structures. This is history in the making.
How have the power structures affected you? Both women and men have been enslaved by these dynamics. Ask yourself if you have toxic experiences or beliefs that are the residue of this. It's time to clear them out if you want to move forward!
REBOOT  and Free yourself so you can liberate your innate wisdom and sense of what is right! This workshop will help you get there!
I'd love to have you join!
Connie
REGISTRATION: Call Centered at 859-721-1841 or go to http://bit.ly/2eKV1o3 or visit Workshops at www.centered.com