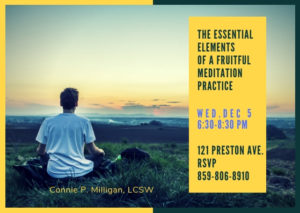 I'm excited to announce that I've been asked to do my "Essential Elements Of A Fruitful Meditation" class again! This pop-up class is perfect for getting yourself attuned to deal with holiday stress. I'll review what I have found to be the 8 essential elements of a meditation practice that will enhance and enlighten your life.  I'm hosting it at my home  – here are the details:
CLASS:          The Essential Elements Of A Fruitful Meditation Practice
DATE:            Wednesday Dec. 5th
TIME:            6:30-8:30 PM
FEE:               $25.00
LOCATION:  121 Preston Ave. Lexington 
RSVP:           connie@conniemilligan.com 
Food and Refreshments will be served – so you can come straight from work and not be starved!
I'd love to include you – space is limited so if you'd like to reinforce your meditation practice or learn new techniques to launch your own, this will be very helpful! Just give me a call or respond to this email and I'll reserve your spot.
Here's the workshop agenda: