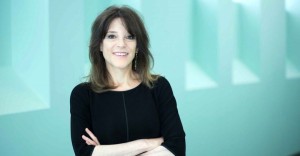 Last week, I heard a powerful, provocative and inspiring speech. Marianne Williamson spoke at Berea College in KY to a packed house on "Healing the Soul Of American: Reclaiming our Voices as Spiritual Citizens. Her stirring urging, to reclaim our moral foundation with action, moved everyone to a fever pitch.
Marianne Williamson is an internationally acclaimed author and speaker who has taken the spiritual focus of her work to the political arena in an attempt to light fire in people's heart about the need to step up. Her 12 books, most of which have been on the New York Times best seller list, are appreciated for their wisdom about the power of love and higher consciousness. But in her speech, she brought more than that to us.
Her talk in Berea, delivered with persuasive oratory skills, illuminated her razor-sharp awareness of American and world history putting a bright light on a needed perspective. Her message – we each have an obligation to reclaim our moral compass and take action.
Allow me to highlight some of the points Marianne made. I have included some quotes but to get the full flavor of her fervor, I recommend you check out the links below to her website and audio books.
Remember the Principles Our Country Was Founded On:
Marianne started with a quote she saw on a campus poster by St. Kassiane, a 9th Century Orthodox Abbessa, " I hate silence when it is time to speak". It reminded her of Martin Luther King's quote: "Your life begins to end when you become silent about things that matter."
This was her segue into the principles that founded our country – separation of church and state and freedom of speech. We take them for granted. We won't be forced to stop a conversation about spirituality by government, nor will political conversations be stopped by churches. In fact, there used to be an understanding about the importance of both.
She talked about how we have forgotten that we were founded on principles or morality – the conservative party embraced personal morality, the liberal party embraced public morality.
These things were fundamental to the making of public policies. In the 1970's there was War on Peace, Global Poverty. Criminal Injustice, and as she noted, mass incarceration would have been one, if it was present then.
But in the last decade, she noted, "we have over thrown our fundamental values of mercy, justice and compassion for the sake of economic gain". Asked who agreed with this – the crowd went wild.
"Being a force for disruption is actually an act of love".
She says, we have developed a "sociopathic world view and are headed toward the iceberg", just like the Titanic. The iceberg can be any number of things – climate change, nuclear disasters, toxic pesticides, to name a few. She noted that we have become complacent, like the Captain of the Titanic, who knew, but didn't argue with the ship owner, that the route was dangerous. When he woke up and realized what was happening, it was too late.
As citizens, we are captains of our ship, and it's time to wake up and take hold of the wheel. "We forgot that for a while, but we remember it now. It is time to turn this ship around". Again, the crowd exploded with applause.
Change Requires Relentless Conviction:
Marianne noted that social change doesn't happen because the majority of people agree with you. It happens because a coalition of like minded people become determined with conviction about their beliefs.
"The majority didn't say "Let's give women the right to vote, the majority didn't even say let's leave England, the majority didn't say let's desegregate the American South." … "The majority has never been the axis of social change. Change comes from conviction. Conviction is a force multiplier."
She went on to say, "We have to get over being so scared that the majority doesn't agree with us… because "the forces of hatred have a perverse kind of courage". They are clear and committed about what they want and will do whatever it takes.
The change that has occurred in our nation to obtain the women's vote and to abolish slavery was the product of dogged conviction. It was change borne out of hard work that took many generations. We've become complacent.
"The problem isn't that more people hate than love, in fact, they are actually fewer in number. The problem is that the haters demonstrate more conviction." It is time for us to develop the same unstoppable belief.
Retrieve Your Soul – Know the Conviction of Your Yes and No:
Marianne talked about how every now and then a cell goes rouge and forgets that it has a job to do as part of a cooperative collective. When it invites others to join it to do damage to the whole, it's called cancer. We have that now.
We have forgotten the principles that founded this country. Despite the dichotomy that existed then (with slave owners) and now (with the wealth in the hands of few) great things have been accomplished and they can again.
"When you mention the USA in other countries, people roll their eyes, but they all know, when we wake up we slam it like nobody's business. And right now, we are waking up, we are going through a great awakening."
"We have to get past the aint it awful and the whining and be like the abolitionist to say this is intolerable". It was from spiritualist roots that many of the abolitionists and other leaders got their conviction.
"Love creates infinite possibilities" … "Spirituality gives you're the conviction to own your yes and to own your no. It gives you the conviction to say it's intolerable to me."
Her closing: "Every great thing that has happened in the USA has happened because enough people love each other… When American gets it wrong, enough people come together to get it right. It doesn't have to be a majority of people. When a few good people, because of their conviction, come together they become a force multiplier and in time they reach the 100 monkey or critical mass to tip the system. …It's our turn now, this moment of crisis is temporary, we'll make it better…Love will be injected into our politics, into every facet of our lives, and each and every one of us that takes part will be satisfied knowing that I've done what I could."
Marianne ended to rousing applause and a standing ovation. We left feeling impassioned and recharged to move these thoughts forward.
With that in mind, I write this summary. To appreciate her inspired flow of eloquent conviction, you need to hear her. The hour recording has a page long URL, If you'd like a copy, please message me and I'll gladly email it to you. In the meantime, check out the resources to her website, audio books and fb page.
If you'd like to explore how you can connect to your spiritual center and stand more clearly in the force of your convictions, my Transformational Life Coaching can help. See my website www.spectrumtransformation.com for more information and send me a message on my Free Consultation link. It could well initiate the change you are seeking.
http://marianne.com Marianne Williamson at Marble Collegiate Church – Every Tuesday 7:30PM Livestream also available
www.audible.com/Marianne/Williamson – audio books
https://www.facebook.com/williamsonmarianne